Tef Gel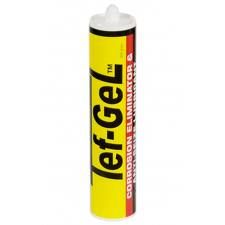 Description
Tef Gel
Corrosion Eliminator and Anti Seize
Inert
Non Hazardous
White in colour
Indefinate shelf life
Will not stain
Easy to use applicators
Versatile
Non carcinogenic
Paintable
No Mess, No waste
Will nener dry out or crack
Three products in one
Tef Gel is derived from a specially formulated Teflon paste and is used in high corrosive enviroments to ensure serviceability and presentation of assembled hardware.
Tef Gel is designed to preform in areas of rust prevention, corrossion elimination and as an anti seize lubricant.
Applicatin And Benefits When Tef Gel Is Applied
Stops Corrosion
Stops Seizing
Stops Galling
Eletrical Contacts
All Grades Stainless Steel and Aluminum
No corrosion and lubricated for serviceabilty
Mechanicl Fastenings,Fittings and Hinges
Presentation and ffunction,prevents blistering paintand rust stains
Friction Between Tightened Nuts and Bolts
Prevents fretting and galling of stainless threads
We Also Recommend...